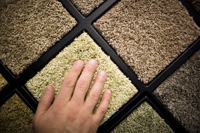 Flooring samples allow you to envision how the colour and texture will look in your space. Without seeing the whole picture, it's often challenging to imagine how the sample will look with preexisting paint, window coverings, or furniture. We encourage customers to take the sample into the space where the flooring will be installed.

Keeping the sample for 24 hours allows you to view how the flooring will look in both natural and artificial light. By viewing the samples in as many situations as possible, you'll be prepared when you see the installed floor
A couple notes about samples:
Variations between samples and installed flooring may exist. Samples are designed to represent the colour and texture of the flooring. Each piece is unique within its own dye lot and may vary slightly from the sample.
Samples are not necessarily stain resistant. It's tempting to throw a glass of red wine on a carpet sample to see how well it will resist the stain, but these are experiments are highly discouraged. Not all samples will have stain resistance built into them like the installed carpet will.
Treat samples with respect. Future customers deserve to view the samples in the same pristine condition you received them in.
Feel free to ask to keep the sample for an extended period of time. We'd rather you take the time to test it out now, then be unhappy later because your new floor doesn't look right with your sofa.
The following two tabs change content below.
Kelsey is the main writer for the MIRA Floors blog. Have a flooring question you would like us to cover? Let me know in the comments.
Latest posts by Kelsey Myers (see all)