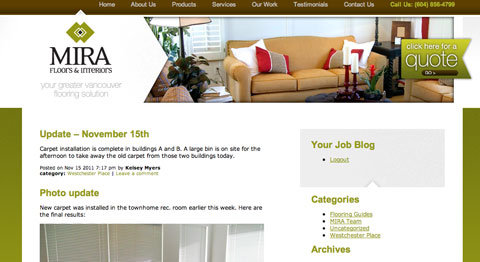 After weeks of testing, we're excited to share with you the new MIRA job blogs. The job blogs are created to keep residents in the building informed about ongoing flooring projects. On the job blog, you can see updates from your account manager, photos, and more.
Password protected job blogs are available to any resident of a strata or multi-unit building having common area or hallway flooring replaced. Login information will be emailed to your property manager and/or strata council to be passed onto all other residents.
If you have any feedback regarding the new job blogs, feel free to comment on this post or email kelsey@mirafloors.com with your comments and suggestions.
The following two tabs change content below.
Kelsey is the main writer for the MIRA Floors blog. Have a flooring question you would like us to cover? Let me know in the comments.
Latest posts by Kelsey Myers (see all)