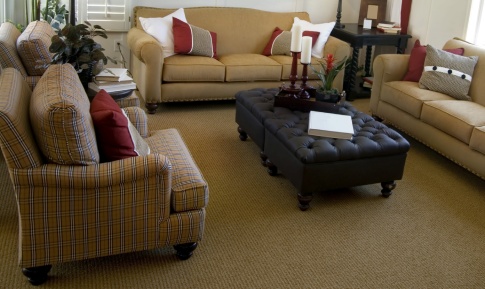 Over time it is natural for carpet to experience wear and tear from every day living. We have some quick and easy solutions to common issues that will get your carpet looking like new again. Before trying any of the following solutions or any other carpet maintenance type, we suggest checking the carpet care instructions provided by your manufacturer to see what they recommend.
1. Snags: If a pet's claw, a child toy, or any other sharp object hooks on the fibres and creates a small snag. Using a pair of scissors, clip the snag as close to the carpet base as possible.
2. Dents: Heavy pieces of furniture can cause dents or indentations in your carpet but they can be removed. Work the carpet pile back into place using your fingers tips or a spoon. Use a hair dryer to raise the tufts and gently pull up the tufts.
3. Shedding: Happens often with new cut pile carpets and can be removed by vacuuming. Shedding will gradually disappear within a few weeks or months, depending on how often you vacuum.
4. Pilling: It's not just your sweaters that experience pilling. With certain carpets, heavy traffic can create little balls of tangled fibres and lints. To remove them, clip them with scissors.
5. Burns: If your carpet has a small burn, you can remove the darkened fibres using a pair of curved fingernail scissors. But if the burn is too extensive, you will have to consider patching or replacement.
6. Sprouts: With cut pile carpet, small tufts or sprouts rise up above the surface of the carpet. Please don't pull the sprout out. Instead, cut it off with a pair of scissors.
7. Crushed Pile: When your carpet pile is crushed and matted, bring it back to life by vacuum with a beater bar vacuum or using a carpet rake.
The following two tabs change content below.
Kelsey is the main writer for the MIRA Floors blog. Have a flooring question you would like us to cover? Let me know in the comments.
Latest posts by Kelsey Myers (see all)