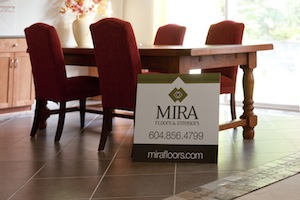 Grout lines can have a huge effect on the way the tile floor installation looks. There are no hard right or wrong answers for what size grout lines should be. However, there are some guidelines for the appropriate size grout joint for technical and aesthetic reasons. For example, when using tiles with imperfect edges larger grout lines should be used.
Recommended size grout lines
Natural stone: 1/16″ or 1/8″
Rectified (sharp) edge tile: 1/16 or 1/8″
Regular tile: 3/16″, 1/4″, up to 3/8″ or 1/2″
Saltillo or Mexican tile: 3/4″ or 1″
The size of grout line dictates the type of grout your installer (or if you're DIY'ing it, you) will use. If your grout lines are 1/8″ or wider, use a sanded grout. As the name suggests, this grout has a fine sand added to it that prevent the grout from excessive shrinking while curing. Unsanded grout is only recommended for lines smaller 1/8″ wide.
The following two tabs change content below.
Kelsey is the main writer for the MIRA Floors blog. Have a flooring question you would like us to cover? Let me know in the comments.
Latest posts by Kelsey Myers (see all)