Small living spaces are getting much attention in Vancouver, like the recently released 297 sf condo units in Surrey known as "Canada's Smallest Condos". Whether you are living in 300 sf or there are a few rooms in your home that feel a bit tiny, there are lots ways to trick the eye and make rooms appear larger.  Here are our top five tips to make the most of any small space:
1. Repaint to make a statement.
Darker colours absorb light and give the illusion of less space while light colours reflect and multiply light.  To keep the room bright and airy, try painting the walls cream, beige, or even a light blue-grey.
2. Use floors as a fifth wall
Floors are like a fifth wall – they are another surface for light to reflect off of. Choosing a light coloured floor will make the room appear brighter and more open. The nature inspired bedroom below uses light coloured wool carpet from Godfrey Hirst and off-white walls to keep this room feeling open.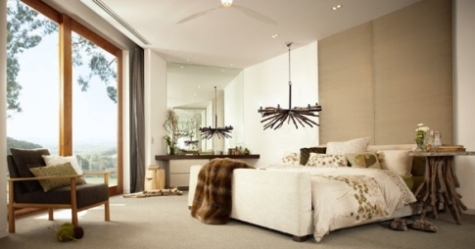 3. Go big with flooring
The World Floor Covering Association recommends using larger flooring to make the room look bigger. Whether it is planks, tiles, or patterns, go big. If you tiles are picked, trying laying them on a diagonal to make the room appear even larger. Laying these tiles diagonally creates a longer line for the eye to follow and a big visual impact on this tiny bathroom space.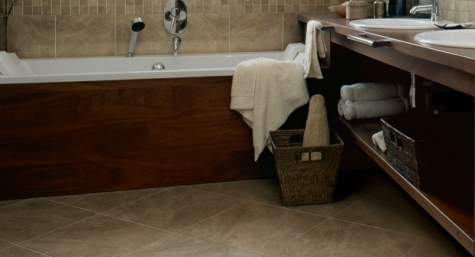 4. Let the light in.
Make use of natural light whenever it is available. Use sheer window coverings or ones you can pull back to allow in more sunlight. To maximize light, try placing a wall mirror to reflect natural light from windows. Cell shades from Shade-O-Matic like the ones below, have sheer fabric options that allow privacy without sacrificing sunlight.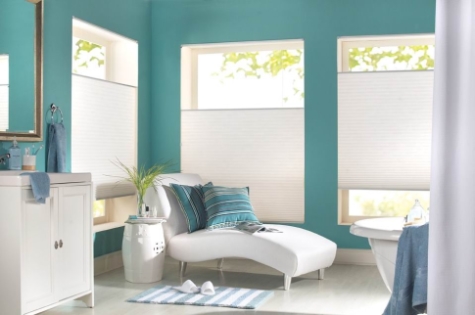 5. Cut out the clutter and reorganize.
A cluttered space looks like a small space. Clearing out clutter is the easiest and least expensive way to make a cramped room feel open. Get rid of any unnecessary pieces of furniture or knick-knacks. Replace old single-use furniture with multi use-furniture that doubles as storage to keep your personal items hidden.
The following two tabs change content below.
Kelsey is the main writer for the MIRA Floors blog. Have a flooring question you would like us to cover? Let me know in the comments.
Latest posts by Kelsey Myers (see all)