Carpet tiles were introduced to the market over 60 years ago but their popularity has rapidly grown during the past decade. Modular carpet tiles are becoming the soft surface of choice for offices, retail spaces, hospitality, and even apartment buildings. They are even popping up in residential spaces that want something more unique than the traditional wall-to-wall carpet look.  Here are three reasons why we love using carpet tiles.
Endless unique design possibilities
With many offices moving away from cubicle farm layouts and embracing open spaces, designers are given larger areas to work with. Open spaces give them a chance to be more creative and try elaborate large scale designs like these new hexagon tiles from Shaw Contract.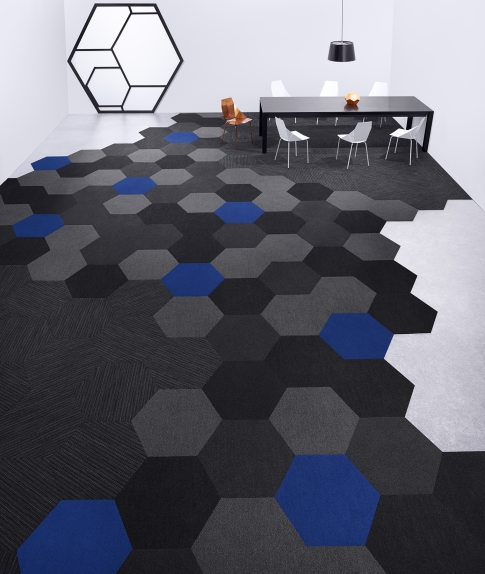 Bold statements can be made using a combination of different tiles. These bright tiles can be used to add punches of colour to a pattern or many different colours can be put together to create your own pattern.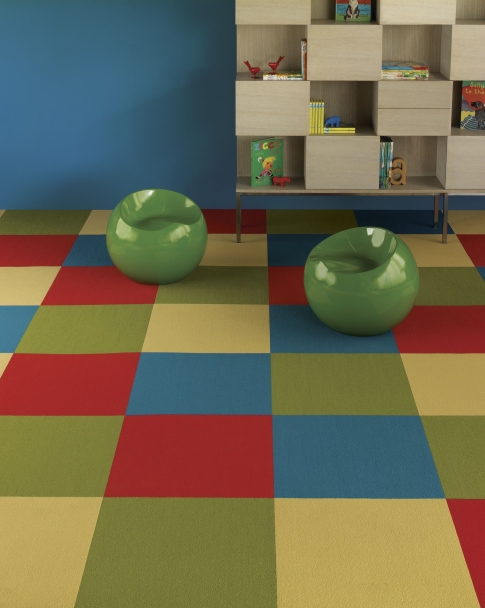 Using different installation methods can create an entirely different looking carpet for some patterned carpets. Each of the different installation methods below creates a different look for one style of carpet tile.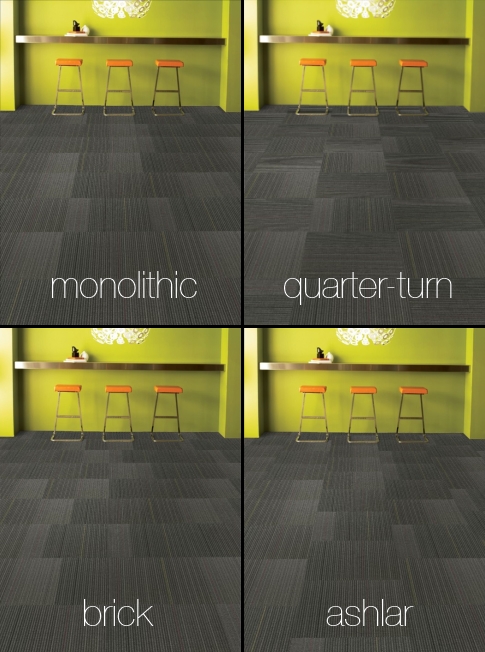 The versatility of carpet tiles allows customers to have a custom looking carpet without the cost of ordering a custom made product.
Simple to replace damaged areas
When carpet is stained or damaged, modular tiles are easier to replace than broadloom carpet. When doing a repair for broadloom carpet, a whole roll of broadloom carpet needs to be dragged down from storage, cut and seamed in. With carpet tiles repairs are much easier. Simply remove the damaged tile and put a new one back in. Wear patterns can be minimized by replacing and rotating select tiles rather than replacing the entire floor when broadloom carpet wears out.
Easier transportation and storage
12 foot rolls of carpet and a highrise elevator are not an ideal match. On installation day, it is much quicker and easier for our crews to move boxes of carpet tile instead of bulky broadloom rolls. Businesses that choose to buy extra materials to keep for repairs use less space to store a 2′ x 2′ box of carpet tiles than a 12 foot long roll of carpet.
The following two tabs change content below.
Kelsey is the main writer for the MIRA Floors blog. Have a flooring question you would like us to cover? Let me know in the comments.
Latest posts by Kelsey Myers (see all)