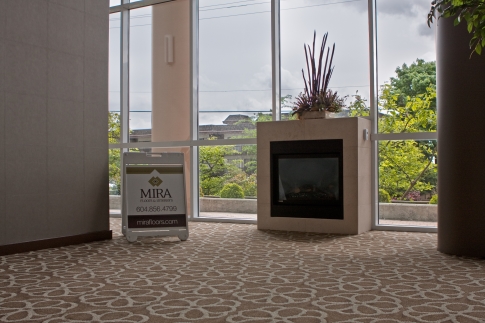 Common areas of a strata complex are part of the first impression for residents and visitors. When it comes time to replace flooring in the common area, many residents will be invested in the decision because they are passionate about creating a great first impression for their building. Getting all these passionate residents to agree on a new carpet for the common area can often be challenging.
Why do strata complexes experience challenges picking new flooring?
Design is subjective. While Mrs. Smith in Unit 306 may love leopard print patterned carpet, others in the building may not. Each person added to the decision making process brings a new set of interior design ideas to accommodate.
There are an overwhelming number of commercial carpet choices. There are thousands of styles and patterns, each with many different colour choices. It is challenging for one person to pick from all these samples, let alone a whole group of people.
Don't endure multiple strata meetings and get into arguments over shades of blue and carpet fibres. Here are a few simple tips we recommend to make the process of picking commercial carpet easier:
Only have a small group responsible for picking the carpet. Designate one or two people as the carpet selection committee. They will work with the salesperson to find a carpet that fits your building's needs and works with the colour scheme.
Narrow down the options before you show them to the whole strata. Pick a few favourite carpet samples and leave the rest in the showroom. Limiting the options makes it easy for the strata to vote. After a quick "majority rules" vote, the carpet will be picked.
Ensure all decision makers have the same knowledge about carpet. Not all carpets are created equally. Colour and patterns are only two of many important factors to consider. Invite your salesperson to spend 5-10 minutes at your meeting educating all decision makers on factors to consider when picking commercial carpet. Once everyone has the same knowledge about carpet, they will be more confident when making their decision.
Get the full picture with the big samples. Commercial carpet sample books often have tiny swatches – think 1 inch by 1 inch. Your salesperson can order larger samples to help you better visualize what the carpet will look like in your common area. Manufacturers such as Patcraft have tools on their website to show what your carpet will look like in a larger space and using different carpet tile installation methods.

Consider using a designer. If interior design isn't your forté or the strata is planning a renovation with many components (carpet, tiles, paint etc), a designer will help with the decision making process. The designer will provide great advice on interior design trends and put together visual representations of the components of the design. A visual representation is helpful for working around any language barriers you may have.
While there's no guarantee of pleasing everyone when making a decision with a large group of people, following these steps will help you come to a fair decision, quickly and easily.
The following two tabs change content below.
Kelsey is the main writer for the MIRA Floors blog. Have a flooring question you would like us to cover? Let me know in the comments.
Latest posts by Kelsey Myers (see all)