Summer sun has finally arrived in Vancouver! When the rays of sunshine peak out from behind the clouds, it's time to take the cover off the BBQ. We picked a couple favourite BC wines to pair nicely with your grilled meat of choice. Our two picks are from Cedar Creek, an Okanagan based winery located just south of Kelowna. The winery was recently purchased by Anthony von Mandl, owner of the Mission Hill Family Estate. For those who love this winery as it is – don't worry, winemaker Darryl Brooker is staying on board. We were so excited to try these two wines that we opened them before getting a photo – oops!
The contenders…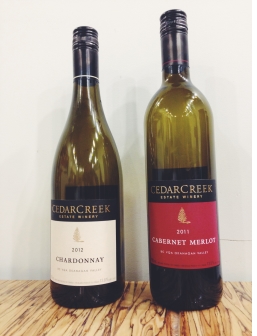 Cedar Creek 2012 Chardonnay 
The Cedar Creek Chardonnay is not your typical oak bomb Chardonnay. To create a well-balanced oak flavour, the winemaker aged this wine in a 2250 litre foudre instead of the typical much smaller sized barrels. The resulting flavour on the palette is a fresh, citrus taste. As a Double Gold winner at the 2014 All Canadian Wine Championships, it's sure to be a crowd-pleaser at your next BBQ.  Pair it with a chicken or fish dish for the tastiest results.
Cedar Creek 2011 Cabernet Merlot
Blended wines like this Cabernet Merlot give winemakers an opportunity to experiment with different aromas and flavours that create a blend greater than it's individual parts. This Cabernet Merlot is mostly Cabernet Franc grapes blended with Merlot and Cabernet Sauvignon to create a rich, full-bodied red wine. From the array of complex flavours, our team tasted fruity sweetness with a bit of spice, anise and oak. It's best paired with a simply prepared cut of red meat straight off the grill.
The winner?
Our winner of this round was the Cabernet Merlot by 1 point on our ten point scale. Though the majority of our office typically prefers whites to red, this blend was a resounding favourite.
Do you have a great wine you think we should try for the fall tasting? Let us know in the comments.
The following two tabs change content below.
Kelsey is the main writer for the MIRA Floors blog. Have a flooring question you would like us to cover? Let me know in the comments.
Latest posts by Kelsey Myers (see all)