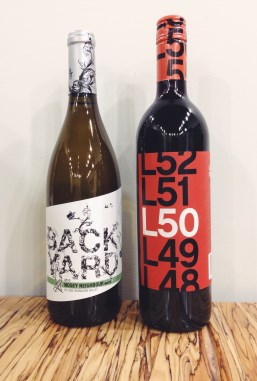 December marks the beginning of a holiday season calendar filled with work parties, drinks with friends and quality time with family. We have picked two wines to be your go-to's during the busy holiday season. Our criteria for picking great holiday wines was that they had to be:
a) BC VQA wines to support our local businesses
b) Worthy of serving to friends and family over the holidays
c) Budget friendly to be a last minute gift for the party host
d) Delicious, of course.
Here are the two wines that checked our boxes. Our team tasted them last week during lunch at our annual sales planning meeting.
Grey Monk 2012 Latitude 50 Red
The name Latitude 50 is a nod to Grey Monk's location in the Okanagan, where latitude 50 and Lake Okanagan meet. Grey Monk keeps us guessing which grapes were used in this stunning blend since the composition is not listed on the bottle or online. From our tasting, we think it's a blend of gamay and pinot noir grapes. The medium-bodied Latitude 50 is a great table wine, the kind that goes well with a variety of different foods or even none at all. It beckons you with floral, spicy aromas and just a touch of herbal notes. The nose reflects the flavours of raspberry, pepper, spice and a light black cherry finish. This would be especially delicious with a holiday party pot roast or late-night pizza to celebrate the end of holiday gift shopping.
Backyard Vineyards 2013 Nosey Neighbour White
The name Backyard Vineyards is apt since they are located  in Vancouver's metaphorical backyard at 30 Ave at 232 Street in Langley. The Nosey Neighbour blend is a best seller at the local wine store we purchased it at. From the first taste, it is clear why this wine sells so well. This blend of pinot gris, riseling and gewurztraminer is a pleasant and easy drinking crowd pleaser with just a hint of complexity. Bright citrus and herb aromas greets you before hitting the palette with a fruity blend of stone fruits, pineapple and mango. A refreshing and clean acidity follows you from first taste to the finish. This wine is not available at BC Liquor Stores but you can purchase it direct from the winery or at your local independent wine store. View the full list of stores that carry Backyard Vineyards.
The following two tabs change content below.
Kelsey is the main writer for the MIRA Floors blog. Have a flooring question you would like us to cover? Let me know in the comments.
Latest posts by Kelsey Myers (see all)