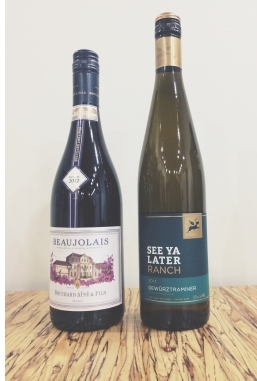 We have picked two wines to grace your Thanksgiving table this fall. Both red and white wines have a place beside the delectable main course, the turkey. For those who prefer red, a classic French Beaujolais pairs nicely with both light and dark turkey meat. White wine lovers don't have to be left out on Thanksgiving Day. An aromatic white like a Gewürztraminer picks up on the herbs and stuffing of the turkey.
2012 Bouchard Aine & Fils Beaujolais
Our favourite BC liquor store employee steered us toward one of her favourite Beaujolais wines from Bouchard Aine & Fils. For those unfamiliar with the name Beaujolais, grapes for Beaujolais wines can only be grown in precisely defined Beaujolais areas within the wine-growing region of Burgundy. Made from 100% gamay grapes, this Beaujolais is fun, fruity and expressive. The taste is an elegant bouquet of cherries and plums with a subtle flowery finish. This classic French wine was finished off quickly by the members of our team who love red wines.
2013 See Ya Later Ranch Gewürztraminer
Since a holiday in BC is best celebrated with a BC wine on the table, we looked to the Okanagan for a great Gewürztraminer. The one from See Ya Later Ranch does not disappoint. It is composed of blend of grapes that most wine newbies have trouble pronouncing – 90% Gewürztraminer, 5% Shönberger and 5% Ehrenfelser. It has a powerful, alluring aroma of lychee, rose petals and grapefruit. When tasted, the palette bursts with the rich flavours of lychee and melon to pleasantly compliment the crisp acidity and off-dry finish. While many Gewürztraminer's are overly sweet, this one surprises the palette with a more subtle sweetness. For this reason, the Gewürztraminer was crowned the team favourite for this round of wine tastings.
The following two tabs change content below.
Kelsey is the main writer for the MIRA Floors blog. Have a flooring question you would like us to cover? Let me know in the comments.
Latest posts by Kelsey Myers (see all)