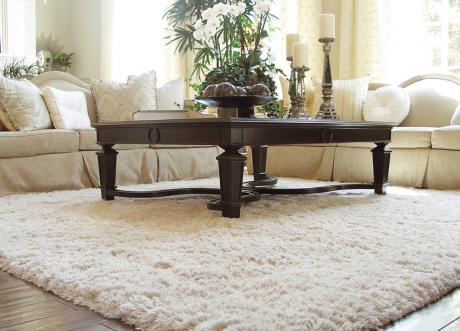 As the popularity of mid-century modern design has grown (think of the set of Mad Men), so has the popularity of shag carpet. For many, the mere mention of shag carpet brings up nightmares of wood panels, avocado green appliances, and plastic furniture. But the shag carpet of today is much different than its stringy, burnt orange cousin of the 1970's.
It's not just the dated colours of seventies shag carpet that make homeowners want to tear it out of their homes on sight, it's the quality of the fibres. That harvest gold shag carpet found CMHC specials is heavily matted in all the walking paths. Carpet fibre technology has dramatically advanced since then and today's shag carpet shows footprints less than the seventies version.
In most carpet stores, this new generation of shag is often referred to as "frieze." The new name helps shag carpet shed its image as a style nightmare. Emily Morrow, Director of Colour, Style, and Design at Shaw Industries explains that "the simplicity and contemporary lines of the style appeal to a generation of new consumers and homeowners who did not live through the trend in its original heyday but like the nostalgic effect it offers."
Like the look but aren't ready to make the commitment of wall-to-wall shag carpet? An area rug is a great way to incorporate this style into your home. Broadloom carpet from any manufacturer can be cut and bound into an area rug, giving you an endless array of colours and styles to choose from.
Still skeptical about shag carpet looking good in your home? Take a look at Houzz's shag carpet ideabook to see how shag carpet is incorporated into a variety of decor styles.
What do you think? Would you include shag carpet in your next home redecoration or is this a piece of history that shouldn't be repeated?