What is Pattern Matching?
Patterned carpets consist of printed or tufted designs that repeat at regular intervals at the length and width. These regular repeats are designed to match side by side, allowing the installer to maintain pattern uniformity when additional carpet thickness are side matched during installation. To obtain this goal, the installer needs to know how to give pattern repeats and they should also factor it in relation to the entire room size.
In most cases, pattern repeats are designed to side match in their full width and estimated to match based on multiples of the length repeat.
Pattern match variations should be checked for during the dry-lay processing in order to best determine the roll sequence.
What Are The Different Types of Pattern Matches?
Set Match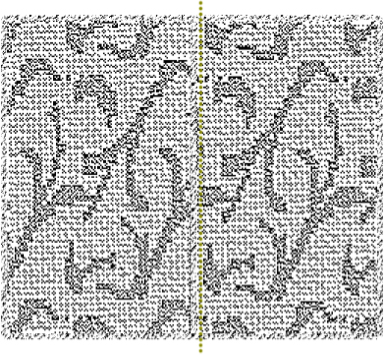 If a carpet is designed with a set repeat, the adjoining area should be estimated based on even multiples of the length repeat. For example, if the carpet has a 36" x 36" set length repeat and the room length is 23 feet.6 inches the first drop would require no more than 23 feet. 6 inches. However if an adjoining drop is needed this second area measurement must take into consideration the next highest even multiple of 36 inches. Based on this, the adjoining area must be 24 ft. long in order to obtain a proper set pattern match at the seam.
Half Drop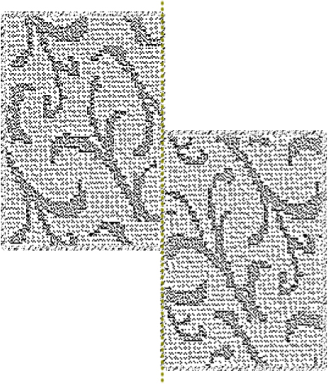 Half-drop pattern repeats produce a diagonal alignment across the width of the carpet and they are designed so that the length of an adjoining area can be calculated by estimating the length repeat plus one half of the repeat. Half-Drop length repeats can be lined to a stair step in appearance.
Brick Repeat/Drop Match/Half Step Forward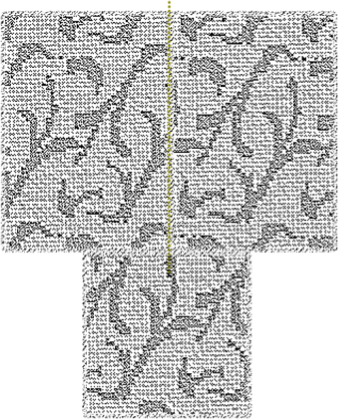 The Brick repeat is not often encountered. If a carpet has a 20"x 20" brick repeat, the length can be found by dropping down 20 inches from the pattern repeat point and moving across the width 10" (half a step forward of the 20 inches wide pattern repeat).
Carpet requirements for this type can be calculated similar to the method used to calculate half drops and other half repeat patterns.