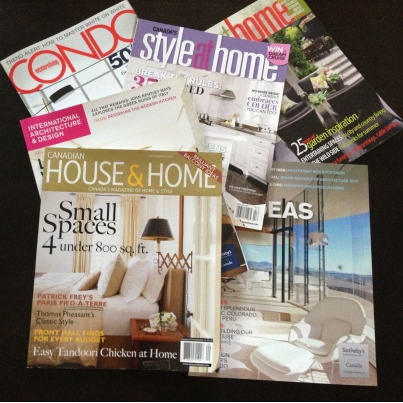 Inspiration for your home is everywhere – home shows, magazines, or even a walk through your favourite stylish neighbourhood. Here's a few of our favourite magazines and online resources to look at when gathering inspiration for your next renovation.
Local inspiration
Western Living Magazine
This magazines and it's website is a comprehensive guide of everything new and unusual in Western Canada, from Winnipeg to Victoria. Their Homes section showcases a stunning selection of homes and condos in Western Canada's, design tips and new trends in décor.
Westcoast Homes and Design
Every issue of this magazine is full of Vancouver's best local architecture and creative design trends. By browsing through local homes, there's a better chance that the products used to create that space will be local. By keeping it local, you're less likely to fall in love with the backsplash tiles in the photo, only to discover that the product cannot be imported to Canada.
Keep track of your ideas
Houzz
The Houzz website is 100% dedicated to home improvement and interior design. Their extensive library has well-written articles to help you through all stages of a home renovation or design project. Browse through the inspiring photos posted by other users and create an account to save your favourites to your own ideabooks.
Pinterest – The tremendously popular social media site is filled to the brim with renovation and interior design ideas. You can explore the Pinterest Home Decor category or create your own pin board to keep track of the great ideas you find on Pinterest and other websites.
Modern and Minimal
Dwell
This magazine and it's website demonstrates functional and comfortable modern design. While many photos of modern design homes often look like no one lives there, Dwell's goal is to show modernist designed homes lived in by real people.
Better Living Through Design
The Better Living Through Design website is a great resource for those yearning for the best eye-catching modern furniture and design options on the internet. The products featured could be from anywhere at the world and at any price point. No searching is required to find the product since each product has a direct link to the retailer.
Retro living
Retro Renovation
Love the sets of Mad Men and have a soft spot for shag carpets? Then Retro Renovation is the site for you.  This website is a comprehensive guide to renovating and decorating your house mid-century style.
Small-spaces
Apartment Therapy
Apartment Therapy is an ode to making the most of small space living. This website boasts inspiring before and after posts, great storage and organization advice, and a video how-to series. Living in 1000 sf or less has never looked so good!
Have other favourite home renovation and decor websites that we forgot to mention? Let us know about them in the comments.