For our winter season wine tasting, we choose to focus on local wines recommended by our team and readers. We picked wines that were $25 or under, perfect for Christmas gifts or to bring to a party.
The contenders: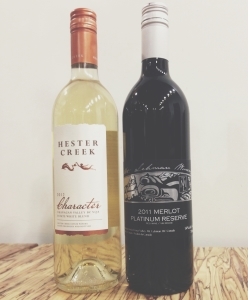 Mt Lehman Winery – Platinum Reserve Merlot 2011
One of our owners, James Alisch tried this wine from this local Abbotsford winery and knew from the first taste it was a contender for the MIRA Floors team wine tasting. Supporting local business and trying a wine the winery boasts as "probably unlike any other [Merlot] you have tried before" is a win-win. This Merlot spent 14 months aging in a combination of new and used French Oak. It has bright fruit flavours, a burst of acidity with bing cherry flavours with a hint of licorice.
Hester Creek Estate Winery – Character White 2011
We were replacing the commercial carpet in a client's office and he named the Hester Creek Estate Winery in Oliver as one of his BC favourites. We choose to sample the winery's Character White, a blend of estate Chardonnay, Pinot Gris, Pint Blanc and Trebbiano grapes. This wine offers an appealing fruity fragrance with bright flavours of citrus and apple and just a hint of spice on the palate. With this wine, the acidity helps balance the sweetness. It would be great paired with seafood, Asian fare, or grilled poultry (Holiday Hint: Bring it out to enjoy with Turkey!).
The winner?
With half of the office staff preferring red and the other more partial to white, the results are always very close. Leading by just a half a point on our rating scale, the Hester Creek Character White was our victor for this round of wine tasting.
Have a great wine you think we should try for our next office tasting? Let us know in the comments.