Vinyl flooring is considered to be one of the easiest to maintain flooring options on the market. There are a few tips and tricks to learn that will help you spend less time cleaning your floors. For a quick run-down, read our quick vinyl flooring maintenance tips below or watch this video from worldwide vinyl supplier Armstrong.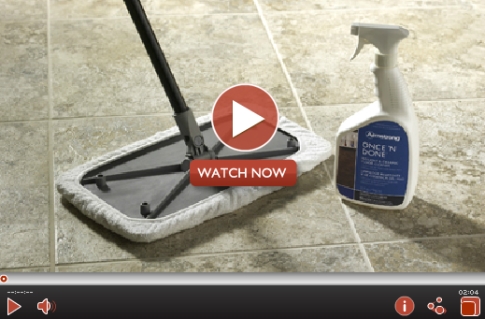 Maintenance tips
Sweep your vinyl flooring regularly – at least once per week.
Wipe up spills as soon as possible to prevent staining.
When sweeping is not enough to get your floors clean, occasionally wash your floor using the manufacturer's recommended cleaner. Do not use detergents, abrasive cleaners, mop and shine products, paste wax or solvent based polishes.
Use a mop or cloth to clean your floor. We do not recommend using a vacuum beater bar or abrasive scrubbing tools as these can damage your floor.
If your floor begins to dull over time, use the manufacturer recommended floor finish polish to restore the floor's original shine. The gloss level of each vinyl floor varies, so it's important to check what your manufacturer recommends.
Preventative maintenance
Use a walk-off mat at outside entrances to prevent dirt, sand and grit from being tracked onto your vinyl floors. Rubber or latex backed mats can stain your floors. Instead choose a non-staining vinyl mat or a woven colourfast rug.
When moving appliances or heavy items, put down a piece of plywood or hardboard runway to protect your floors from damage. A runway is always recommended, even when using a furniture dolly or items with wheels.