What do wine and flooring have in common? Nothing really, until now.
Every few months the Mira team does an in-office wine tasting. It's a bit of fun for the office team and gives us a chance to try staff favourites and wines recommended by customers.
This month's contenders are: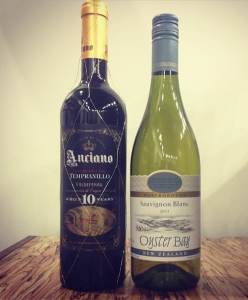 Sauvignon Blanc – Oyster Bay Marlborough 2012
This New Zealand wine is a crowd pleaser that is well suited for long afternoons on the patio in the coming summer months. The Mira team thought this was a light, refreshing wine with a fruity palate. The lively fruit tones are well-balanced by the wine's crisp acidity.
Valdepenas Gran Reserva – Anciano Aged 10 Years
This full-bodied Spanish wine was recommended to us by one of our newsletter readers. By law, all Gran Reserva wines must be aged for a minimum of 5 years before they are released. They spend 18 months in an oak cask and 42 more months bottled and cellared. The Mira team members who preferred the red loved its complex fruit flavours that lead into a long, drawn-out finish.
The winner?
Leading by just one vote, the Oyster Bay was declared this rounds winner.
Have a great wine you think we should try for our next office tasting? Let us know in the comments.