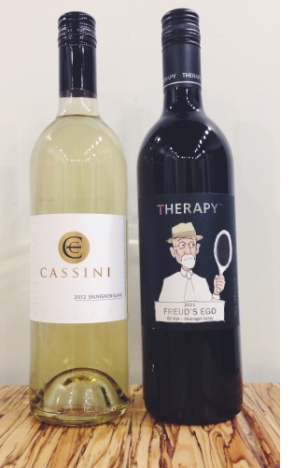 For this edition of the MIRA Wine Club we let a few staff favourites take centre stage. We hope our staff favourites become a couple of your favourites as well.
Cassini Cellars 2012 Sauvignon Blanc
Nominated by: Kelsey Myers, Marketing and Sales Support Manager
Cassini Cellars is a BC-based winery located in the Golden Mile bench between Oliver and Osoyoos. The winery has developed a reputation among BC wine lovers for producing bold and flavourful wines. This Sauvignon Blanc hold true to their signature style. Highly recommended for those who love the tropical flavours and acidity of popular wines like Kim Crawford or Oyster Bay Sauvignon Blanc's but want to try something local instead. Beautiful aromas of passionfruit and grass prepare you for flavours of apple, tropical fruits and citrus zest on the palette. It finishes with the crisp acidity classic Sauvignon Blanc's are known for. This is an easy-drinking wine that would be great on its own or paired with seafood or chicken dishes.
Therapy Vineyards 2011 Freud's Ego
Nominated by: Kelsey Van Dam, Sales
It's another Okanagan based winery – can you tell we have a tendency to buy locally? Therapy Vineyard has made a home in beautiful Naramata Beach. Taking cues from the winery name, all the wines are named with humourous references to common psychology terms – freudian, rorschach, ego etc. While the winemaker may have fun with the naming, he is serious about their wines. Freud's Ego is a blend of grapes harvested from all over the Okanagan. The types of grapes used in the blend are the proprietor's secret. It boasts an inviting nose of black currant and white pepper. It's an easy drinking red wine with soft tannins, a smooth finish and a complex blend of red fruit flavours. Therapy Vineyards provides a great technical description of how the wine was made on their website: Freud's Ego winemaker's notes