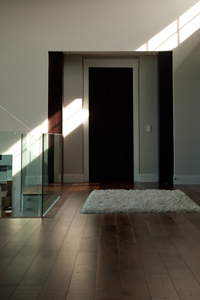 Hardwood floors are a great choice to consider when renovating your space. They are a timeless and elegant option that adds value to your home. Solid and engineered hardwood flooring are the two main types of hardwood. Both types are made from wood and look the same once installed – can you tell the if the photo to the left is engineered or solid? But there are some differences between them in how they are manufactured and their features.
Solid Hardwood
As its name suggests, solid hardwood is milled from wood. It can be sanded and finished many times to stay in pristine condition. Solid hardwood is not recommended for rooms where moisture from daily activities or the ground could damage the floor. This includes kitchens, bathrooms, and any areas below grade such as basements. Homeowners should be prepared for solid flooring to expand and contract as moisture changes in each season.
Engineered Hardwood
Each plank of engineered hardwood is made up of multiple sheets of either hardwood, fibreboard or plywood laminated together with a final layer of hardwood on top. Each layer is put on top of each other in the opposite direction to create a dimensionally stable floor. Using this method called "cross-ply construction" creates a dimensionally stable floor that withstands changes in moisture better than solid hardwood. It is suited to kitchens, bathrooms, or basements. Engineered floors can even be sanded and refinished.
In addition to your budget and personal preference, consider the rooms you will be installing hardwood in before making your flooring decision. The research is worth it when the end result is a beautiful hardwood floor for generations to come.