In celebration of our 15th Anniversary this year, we're celebrating our top 15 first memorable MIRA Floors and Interiors moments, titled the 15 Firsts.
1)  Our First Employee – June 13, 2006
Today we are celebrating MIRA Floors and Interiors First Employee, Miss Sandy Campbell. Today marks 11 years, since Sandy joined the company in June 13th, 2006. We love and appreciate your hard work, commitment, and loyalty to the MIRA Floors Team. Thank you for  your 11 years.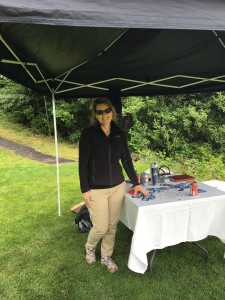 2)  Our First Mobile Showroom – June 28, 2002
15 years ago today, our first mobile showroom was purchased in Winnipeg, driven to Milwaukee where it was outfitted, and then all the way back to BC where it began it's mobile service career! Referred to as "The Mobile" by customers, it racked up over 100,000 KM's over it's 4 year career, servicing customers throughout Lower Mainland Vancouver. This Ford E-250 was the pioneer of the mobile showroom concept, changing the customer flooring selection process, by simply bringing the products to customers front door. Fast forward 15 years later and the mobile showroom has grown to a fleet of 6 vehicles and is now an award winning concept for MIRA Floors and Interiors.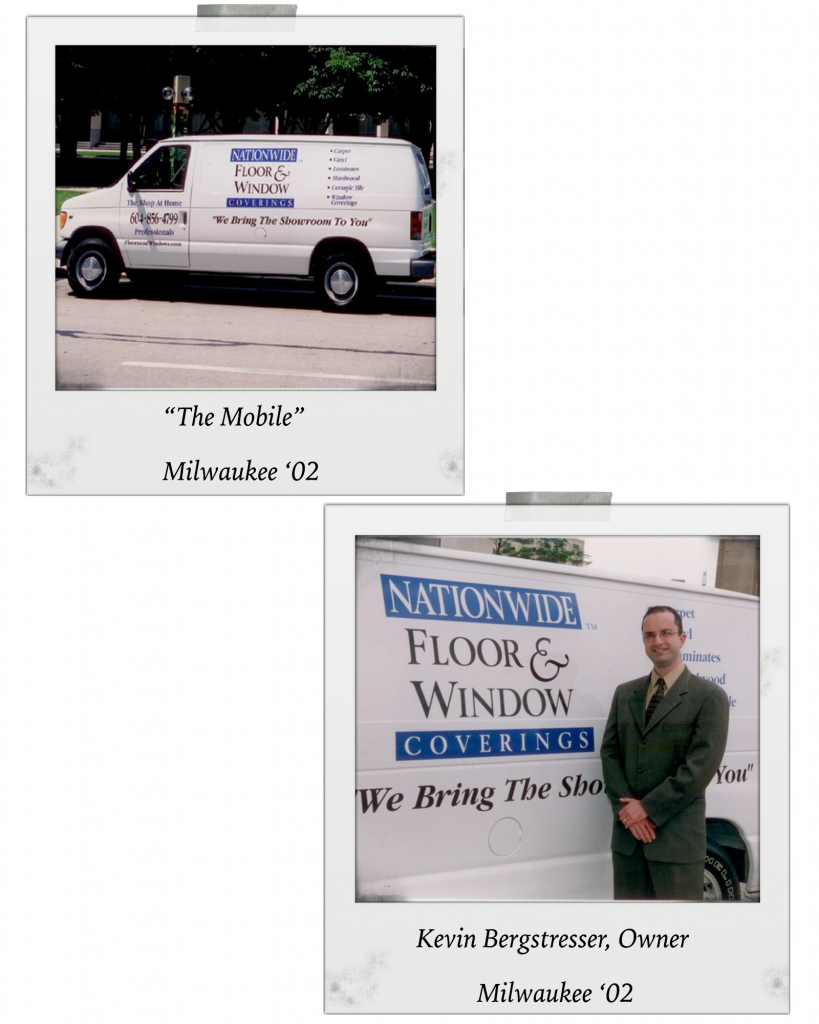 3) Our First Flooring Supplier – July, 17th 2002

Shaw Floors became our first flooring supplier 15 years ago. The entire team at Shaw Floors is a first class organization.
They have great warranty and excellent products, with an extensive product line which gives our customers more options.
Thank you Shaw Floors for being apart of the MIRA Floors family from our inception. We look forward to the next 15 years and beyond.
4) Our First Relationship Account – July, 27th 2002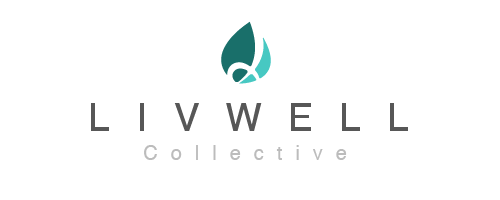 15 years ago today our founder, Kevin Bergstresser, met with the entire team at View Design, an Interior Design firm led by Cynthia Lucas for the first time.
What followed was a relationship that blossomed into our largest account during the first decade of our growth. Through this relationship many others developed, including Brendan Materi of RE/MAX Management currently known as DWell Property Management and their entire team. Our property management sector is still one of our largest and we thank Cynthia and her team for their role in this initial intro.
Today, Cynthia's team has grown into Livwell Collective focusing on improving every aspect of ones' life. We look forward to continued shared success.
Thank you Cynthia and the Livwell Collective family for being critical to the start-up and success of MIRA Floors & Interiors.
5) Our First Charitable Donation – August, 18th 2002
On August 18th, 2005, MIRA Floors and Interiors donated flooring along with installation services to the Life Recovery Association, Abbotsford Women's Supportive Recovery Facility. This was our first of many charitable projects that we have contributed to.
Life Recovery's mission "Is to provide a safe, structured & supportive Christian community for women who desire a lifestyle free from drug & alcohol addiction". Our team at MIRA Floors and Interiors were honoured to be part of this experience in helping to make a difference in the lives of the members of the women at Life Recovery.
Thank you to all the personnel, staff and clients of Life Recovery, for allowing us the opportunity to help give back to the Abbotsford Community. We strongly encourage our readers to check out this organizations charitable work and if you feel led to donate, then please do https://www.liferecoveryassociation.com/donate.
This was the beginning of a fulfilling journey. Since then, we have done multiple charitable projects and fundraisers.
6) Our First Customer Job Landed – September, 28th 2002
15 Years ago today, our First Customer Job was for Diana C. This job was a New Westminster condo renovation by the Quay.
Diana was a referral customer from Designer, Charlene Smith at View Design, currently known as Livwell Collective. We thank Charlene and View Design for being apart of our first customer experience, which set the foundation for many more to come. Thank you Diana for being our First Customer Job that we landed.
Our customers have been loyal and committed to us through the entirety of our existence, thank you all.
7) First Outside Salesperson (non owner) – October, 3rd 2010
8 years ago today, MIRA's first outside salesperson (non-owner) to prospect and build relationships is Sandy Campbell. Sandy moved into this role from her Office Manager position, and since then has built long lasting Customer Relationships, earned hundreds of Customer Recommendations and compliments, and serviced the second highest number of customers of any salesperson in MIRA history.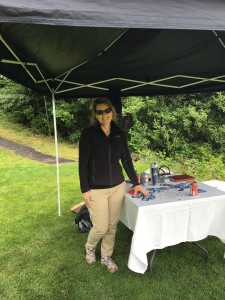 8) Our First Installer – September, 11th 2005
15 years ago today, MIRA's first installer is Barry Laroche. Barry's first MIRA install is a Shaw carpet installation for Diana, our referral customer from View Design. Barry was the first installer to build a relationship with a MIRA customer. We thank Barry for doing a wonderful job and for making our customers, Diana, and the View Design team happy.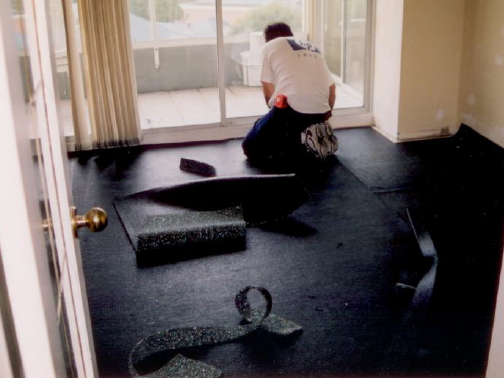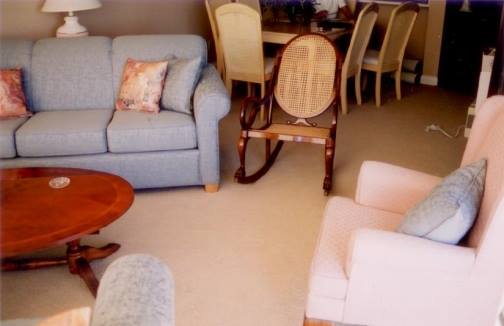 9) Our First Multi-unit Project – October, 17th 2005
Our first multi-unit project was a new condo construction in Aldergrove, called Willow Creek Estates, which was constructed by the Quorum Group.
The 3 storey, 42 floor condo, consisted of 50,000 square feet of carpet, tile, and laminate flooring.
This project came through View Design and RE/MAX, our first Property Management relationship account.
Special thanks to View Design, RE/MAX, our installation team, and the MIRA Floors Team for making the completion of this project happen.

10) Our First Better Business Bureau Award – October, 24th 2013
4 years ago today, MIRA Floors and Interiors were recipients of the Marketplace Excellence award, presented by the Better Business Bureau of Lower Mainland BC.
Special thanks to our customers, vendor partners, the MIRA Floors team, and the Better Business Bureau for this achievement.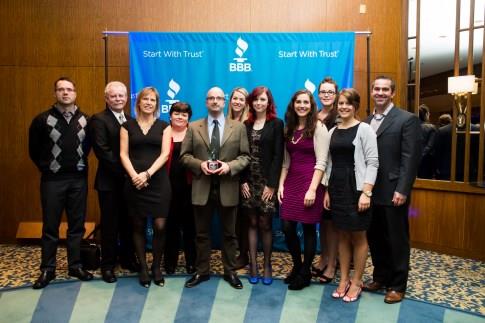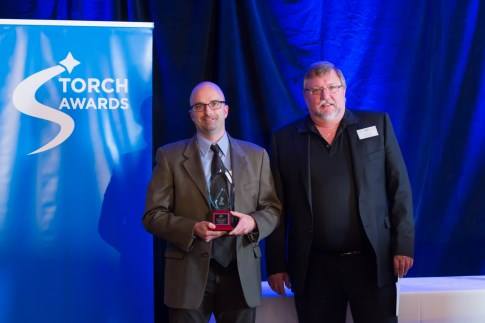 11) Our First Website – Nov, 8th 2008
Nine years ago today we launched our www.mirafloors.com website. Over the years it has grown to be a great relationship platform for connecting us with our customers. Allowing for active discussions on our blog, and giving our customers more insight about who we are, in our About Us section. In addition to our website, we have our Google and social media communication platforms, but our website was our #first introduction to the online world.
We look forward to building more customer relationships on our website in the near future. Thank you MIRA customers for being a critical component of our online history and success. Thanks to our website developer Circle Graphics & Design for creating the MIRA Floors website.
Our Website Throughout the Years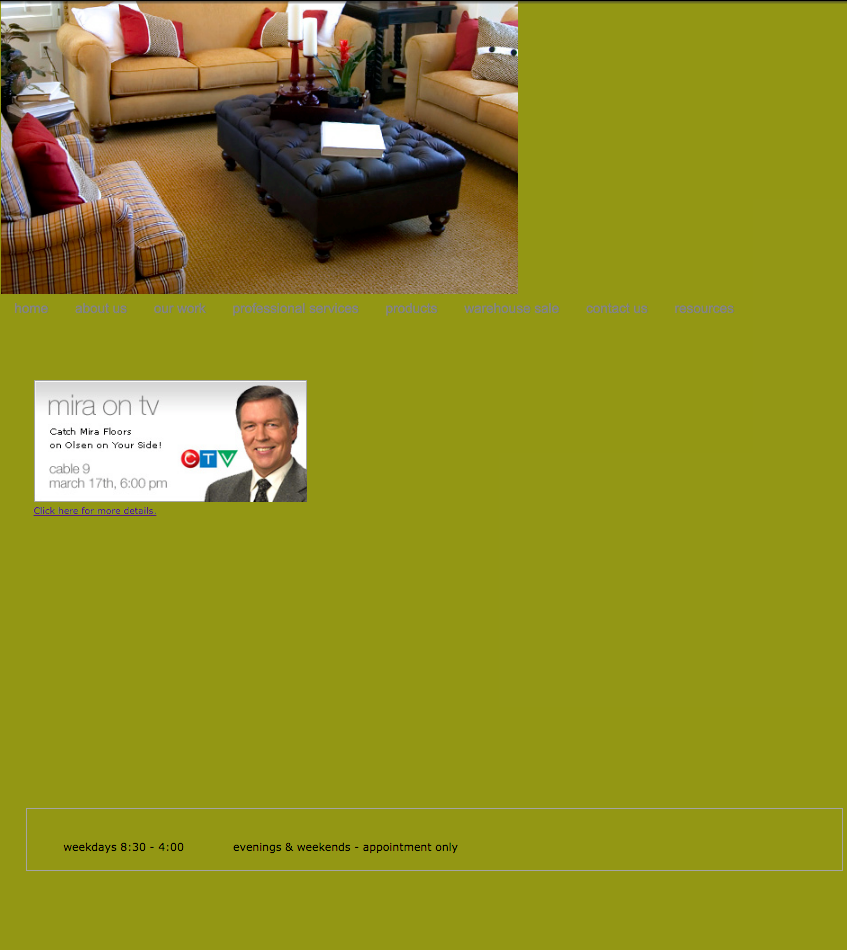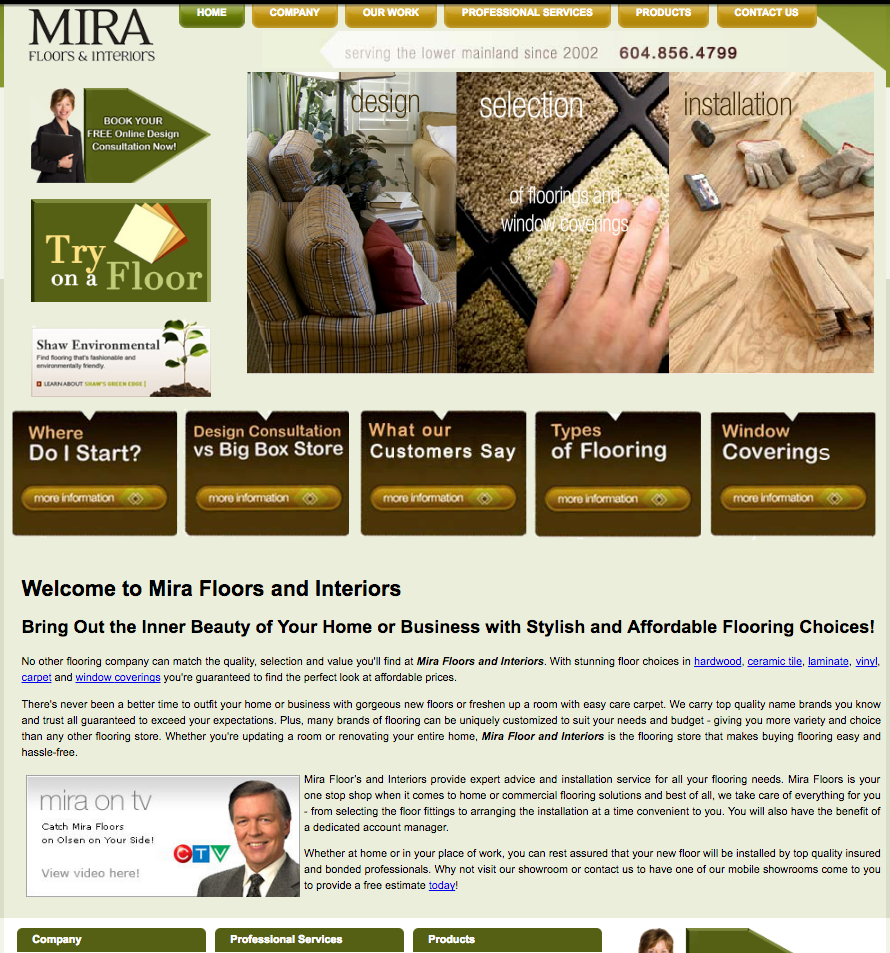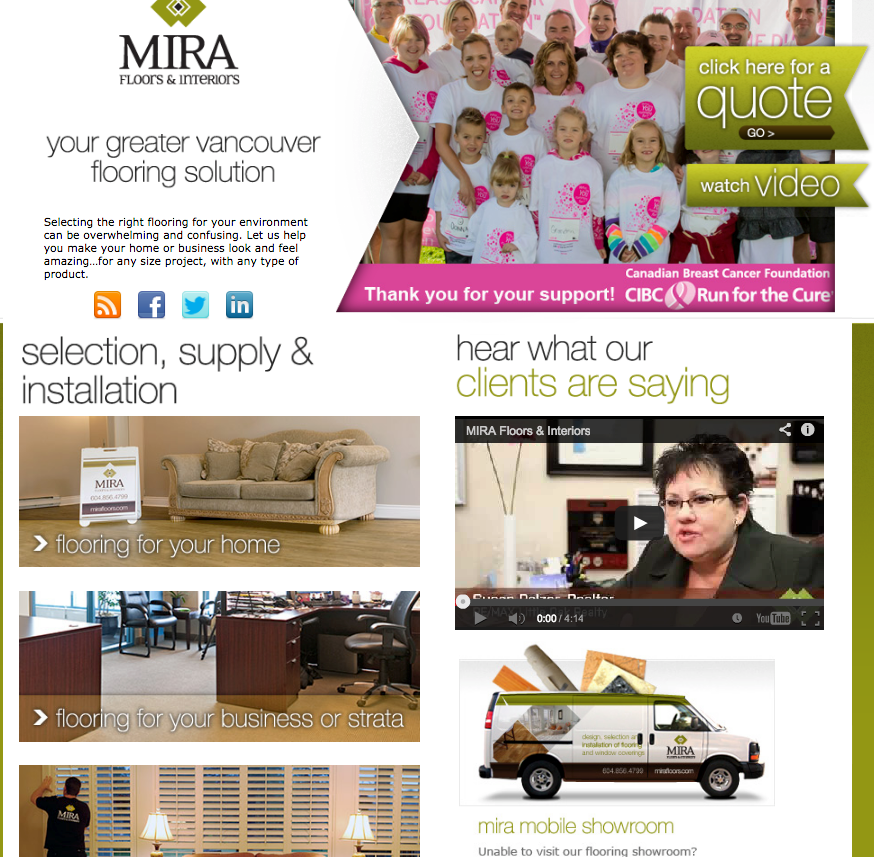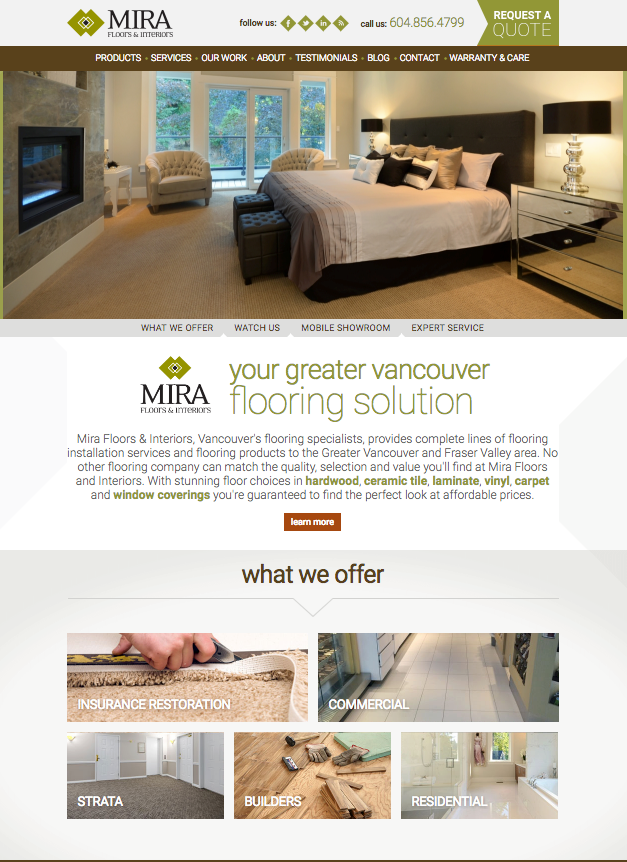 12) Our First Award – Nov, 23rd 2003
Our Founder and Owner, Kevin Bergstresser won the Entrepreneur of the Year award from Community Futures of both North and South Fraser. Even though individual in nature, the support of our initial installation team, first customers, and family and friends played a huge role in the start up and success of MIRA Floors and Interiors.
13) Our First Newspaper Coverage – Nov, 27th 2010
Our first newspaper coverage was in the Vancouver Courier, outlining our project with Atira Women's Resource Society. We aided in renovating and re-furnishing Sereena's House, a home that provides a supportive environment for women who are experiencing violence, and abuse.
Thanks to Atira, the Vancouver Courier, our team and installers for coming together for completing this project and making a difference.
14) Our First Warehouse – Dec, 1st 2005
We opened our first warehouse 12 Years ago in Langley, BC. The MIRA Warehouse is the home of all our flooring products, and a crucial component of our customers buying experience. Our warehouse team ensures that our customers receive the right products, in quality condition, and at the right time.
A special thank you to our warehouse team and our MIRA customers!
15) Our First Team Event – Dec, 12th 2006
11 years ago today we celebrated our first Christmas team event at Willowbrook Lanes in Langley.
A fun-filled night full of laughs, pizza, bowling, and teamwork.
Thanks to our installers, staff, and family members for attending! Thank you for being the start of this special MIRA tradition. Fun and family brought us closer together 😀.